Following a communique recently released by the Ministry of Rural Development and Food (which is technically responsible for pets and animal welfare issues in Greece), anger prevails in animal welfare circles all over the country. The indifference of the Greek state towards animal welfare (which is almost exclusively taken care of by non-profit organizations such as the Paros Animal Welfare Society in Paros) is already widely known, but now the Ministry appears to want to disrupt the work provided by the volunteer workers of these organizations.

For some bizarre and completely inexplicable reasons, the Deputy Minister seems to be giving credence to unfounded claims of illegal pet trafficking between Greece and western European countries and wants to apply his own interpretation of regulations which would make the transport of rescued dogs more complicated and less sustainable. Recognized NOGs from Greece and other European countries - who already have a difficult enough job to do - are being suspected of trafficking on the grounds of nothing more than rumour and gossip. It should be noted that not a single case of animal trafficking has ever been discovered and any sensible person knows that the possibility of an inter-European pet trafficking scheme is both illogical as well as unsustainable. To the contrary, simple mathematics prove that if the approximately 500 unwanted dogs and many cats from Paros had not been rescued and rehomed in loving homes mostly in Germany, there would never have been enough homes for them on Paros or elsewhere in Greece, and most of them would have met with horrible deaths either by deliberate acts of poisoning or shooting, or from accident or disease. It should be pointed out that the PAWS archives, as well as those of the collaborating German organizations, keep track of every one of these rehomed animals.

As a result of the Ministry's actions, the Pan-Hellenic Animal Welfare Federation, of which PAWS is a member, instead of using its resources towards more productive ends, has instead to fight against the ignorant actions of the state. A campaign entitled "Condemned by them, Saved by Us" will hopfully gather thousands of photos from families who have adopted an animal rescued in Greece, raising a hand in a sign of protest and thereby also referencing the Federation's logo. Please participate in the campaign if you have adopted an animal - see bellow for further information.
We hope that in the end common sense will prevail!
for more details, please read the following documents:

And if you are the happy owner of a dog rescued from Greece, please participate to the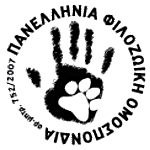 campaign
" CONDEMNED BY THEM,
SAVED BY US "
the same document is available in GREEK and in GERMAN